Program Objectives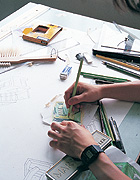 Education and research in the Master's Program of Architectural Design is intended to foster a high level of professional ability in architectural design, through advanced educational methods and practical architectural design training.
With a focus on integrated competence, professional architects will be taken to the leading edge of 21st century design, to be able to better manage housing and building environment, to potentially revitalize certain industry sectors. Students in the program will be exposed to all aspects related to high-quality life styles, global symbiosis, energy efficiency, and the preservation/conservation of cultural traditions.
Curriculum Overview
Architecture graduate students will educated according to "The Recommended International Standards of Architectural Practice (UIA)". This intensive program of study in architectural design specifically provides students with a rich grounding in architectural technology, to enable graduates to obtain both certifications as a first class registered architects (in Japan), and higher international qualifications. This program also offers a lot to experienced professional architects who wish to update their education to reflect the current state of the art and technology in architectural design, in order to improve Japanese architectural industry standards.
Program candidates are expected to demonstrate an overall knowledge of the field.
Training periods can be extended in the case of long-term internships.
Architectural Design Specialization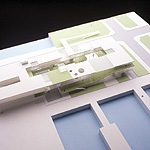 Students who elect to specialize in architectural design are expected to develop their professional investigation skills with a particular emphasis on mastering all elements of architectural design. In terms of theory and practice, the program also offers students the opportunity to take courses and undertake research in the theory of cultural environments, structural performance technologies, traditional Japanese building skills and technologies.