October 25 to 29, we held the Ninth Annual KIT International Week at our Matsugasaki campus. To prevent the spread of COVID-19, we held events online and at corona-proofed venues. Students who wish to study abroad and international students worked together to make the week an exciting one and to promote easy information exchange.
Restart of Overseas Study
 On the first day of the study abroad briefing, staff outlined plans for the gradual return of study abroad opportunities and discussed preparations students can begin at once. Participating students asked about online study abroad and how to participate in the KIT Online Summer School, which is also attended by students from overseas. Students were clearly enthusiastic about keeping up their motivation to study abroad.
 
 Importantly, we also held an online consultation session on the costs of studying abroad. Interested students asked for specific advice on how to save money and how to get scholarship support for both long-term and short-term study abroad programs. Here, too, prospective study abroad candidates listened intently to the stories of students who have returned from studying abroad.
 
 Adding to the excitement of the event, an International Week photo contest was held for the first time. The "Border Crossing" theme attracted more than 150 photos taken in various countries around the world. This contest gave us hope that we will soon be able to travel abroad freely again. On the final day, the winners were announced, and the KIT President and Director of the International Center handed out certificates and prizes to the elated winners.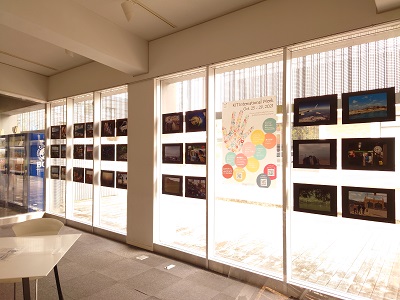 All the photos were exhibited at Plaza KIT.
Winners and presenters at the awards ceremony.
 In the middle of the week, we presented information on two of our partner universities, Chiang Mai University in Thailand and LAB University of Applied Sciences in Finland. The speakers were students who are currently studying in Thailand and an international student from Finland. They gave advice and shared information from their actual experience in these countries and universities. This was quite useful to students who are thinking about studying abroad in the future.
A scene from the Chiang Mai University promotional video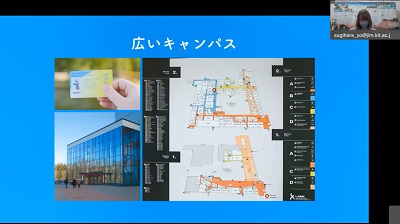 Recommending LAB University of Applied Sciences
The Meaning and Significance of Studying Abroad
 KIT faculty held a panel discussion on the meaning and significance of studying abroad. In this panel discussion entitled, Encountering Differences, faculty members with overseas research experience shared their experiences and hardships and spoke with students in the audience afterwards. Many faculty commented on how useful it is for students to be exposed to other cultures while they are at university, and underlined how students can gain valuable insights on Japan and their research in Japan, from academic environment experience abroad. Fortunately, even students who felt studying abroad was unnecessary or not of interest at all prior to the talks, said, "The professors' experiences were very inspiring and awakened a desire in me to experience academic work in another country.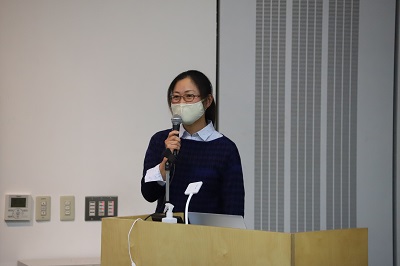 Moderator, Professor Fukada
Student-Faculty Discussion
 For our 13th Career X English seminar, we invited Mr. Masafumi Nakano (Director, Nisshin Electric Thailand Co., Ltd.) and Mr. Yoshikuni Otsuka (Former Director, Nitto Seiko Thailand Co., Ltd.) to give us a frank talk on what international work is really like. We were able to hear valuable concrete stories such as ones on how they responded to major flooding in Thailand and how they overcame language and cultural barriers there. This lecture gave students a new perspective on how they can use the experience of studying abroad in their futures.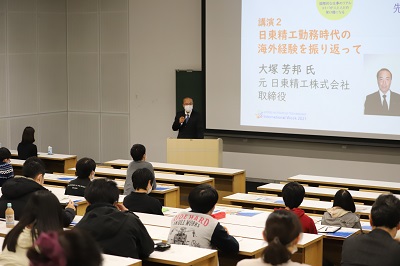 Mr. Otsuka's lecture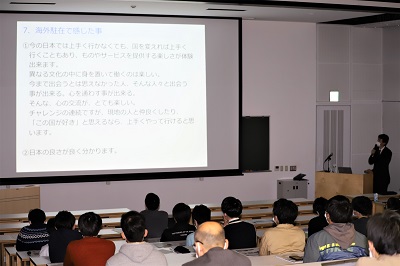 Mr. Nakano's lecture
 In addition, we held a seminar exploring how to deal with machine translation, which has made remarkable progress in recent years and is becoming an essential learning and communication tool. The seminar included the results of a questionnaire on how KIT students are using machine translation, the difference between Google and DeepL translations, and how accurate these translations are in languages other than English. Thai students were invited to verify the accuracy of translation into Thai. In the latter half of the session, faculty and students discussed how best to implement machine translation, and various opinions were expressed about appropriate usage and future evolution.
Students enthusiastically expressing opinions
International Exchange on Campus
 Due to online classes, it has been difficult for international students and Japanese students to interact with each other. In response to this, KITICO, a volunteer organization that supports international students, and members of Mcafé, a group that holds international exchange talks in the library, collaborated to create two fun online events.
 The first was a quiz show featuring flipping answer panels. Students enjoyed attempting to answer questions on worldwide trivia. It was a fun quiz show where the audience joined in and cheered for students competing neck and neck to the very end.
Quiz show slides
 The second online event was a consultation room for international students. Here again, KITICO and Mcafé members collaborated, giving advice to newly arrived international students on how to live comfortably in Japan. There was also time for individual consultations and advice. The success of this event has inspired KIT to continue to support international students in living happily in Kyoto by making this type of consultation room available throughout the year.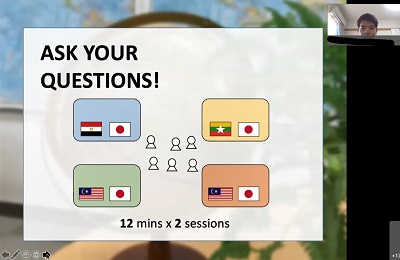 A scene in the consultation room
Holding International Week during the COVID-19 pandemic
 As this year's International Week was held just after the cancellation of the COVID-19 state of emergency, we had to hold some events online. Next year we hope to boldly hold International Week face-to-face events such as presentations on study abroad experiences and exchange events with international students without the worry of COVID-19.