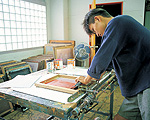 At the doctoral, as at the master's level, we make the most of the strategic advantages of our Kyoto location. Students are encouraged to think globally and develop abilities obtainable only in Kyoto. The program calls its educational concept [Kyoto Design]. Based on this concept, we engage in education, research, and project implementation, thereby nurturing top class, expert urban and architectural design professionals, well versed in local and historical topics and capable of competing in the international arena.
We invite a group of leading experts from around the world on a medium, or a long-term basis. These are persons who specialize in such fields as architectural design, city and architectural history, structure and environment, and city and architectural planning, thereby providing a world-class education to our students. At the same time, we encourage our faculty members and students to seek education, research and project implementation opportunities overseas, thereby improving their research and practical abilities so they will be competitive at the global level.
We will pursue our education and research activities by emphasizing approaches to cities and architecture from the history of Kyoto and other local communities. Based on the understanding that today's urban studies and architecture must address the shift to a stock-oriented society expected in the 21st century, among other developments, the Architecture Program aims to enhance the skills needed to utilize and manage the stock of urban and architectural heritage sites and buildings, thereby fostering student abilities to plan restoration and revival projects in ways that are not only locally optimal but universally applicable.

We promote [Kyoto Design] not only in education and research but also in the implementation of actual projects. Specifically, at [KYOTO Design lab.], a design workshop and research facility that we are establishing in cooperation with the Design Program, we utilize our abundant educational and research resources to solve social problems and create value.
Education in the Architecture Program at the doctoral level, as at the master's level, is comprised of a curriculum specializing in architectural design with an emphasis on the globalization of business activities and a curriculum focusing on the evaluation, planning, technological analysis, design and management of existing cities and buildings for the purpose of restoration and urban revival. The two curricula proceed in close mutual cooperation. Doctoral students select and register for one of the two curricula and under the supervision of a professor, conduct research culminating in the completion of a dissertation.
Laboratory Information