Program Objectives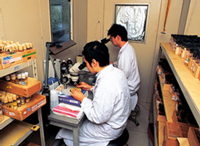 The Doctor's Program of Materials and Life Science consists of four areas to cover a very wide field from life science to material science : applied biology, biomolecular engineering, macromolecular science and engineering, and chemistry and materials technology. Professionals programs are offered to provide creative scientific professionals with the knowledge on both the theory and its application to develop new materials and technologies harmonized with nature and society.
Research Activities
The following four areas are part of this program.
Applied Biology
Analysis and control of the characteristic life phenomenon at the molecular level including genes, cells, tissues, individuats and life;
Elucidation of the inter-organism information among various kinds of living entities.
Biomolecular Engineering
Biotechnological production of useful materials through the employment and improvement of the highly sophisticated functions and materials that organisms possess;
Investigation of the relationship between the structures and functions of bio-polymers.
Macromolecular Science and Engineering
Investigation of the relationship between the structures and properties of polymers;
Development of new polymer materials with various functions, such as photo and electronic functions.
Chemistry and Materials Technology
Investigation of the principles related to the composition of molecules at the atomic and molecular levels;
Elucidation of the reaction mechanism of molecules and effective molecular transformations;
The design, transformation, and synthesis of materials having new structures and higher functionality levels;
Investigation of the relationship between the structure of molecular aggregates and their physical properties and the processing characteristics of newly designed materials.
Laboratory Information