Program Objectives
The goal of the Undergraduate Program of Mechanical and System Engineering is to produce graduates who are able to develop new mechanical engineering applications for the 21st century.
Students in this program will be taught to be knowledge-proficient professionals that are creative in their approach to problems. In the program, students will also gain an international perspective on the problems currently faced by many nations and learn how to communicate efficiently and respond quickly to challenges.


Curriculum Overview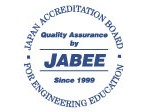 The Undergraduate Program of Mechanical and System Engineering, which is certified by the Japan Accreditation Board for Engineering Education (JABEE), has a comprehensive curriculum, based on lectures, exercises, experiments, and project-based laboratory that includes: solid mechanics, dynamics, fluid dynamics, thermodynamics, materials, control, measurement, design, and manufacturing.

In their final advanced research thesis, senior students will be able to choose from one of four specialties: material mechanics, thermo and fluid engineering, material processing, and measurement systems and control engineering.