I would like to welcome all of you new Kyoto Institute of Technology students of the School of Science and Technology and the Graduate School of Science and Technology. Your journey from application process to this day must have been affected in one way or another by the COVID-19 pandemic and the many changes it has brought. You have persevered. I would like to offer you my heartfelt congratulations on your admission.
Last year, due to the spread of COVID-19, we had no choice but to cancel the ceremony. Even now, COVID-19 shows no signs of ending, but we have been able to maintain the lifestyle now known as the "new normal" as we live with COVID-19. Today's entrance ceremony is being held under these rules. However, the family members and people who have supported you through the harsh conditions of the past year have had to refrain from attending today's ceremony. I regret that I have had to ask for your understanding in this regard.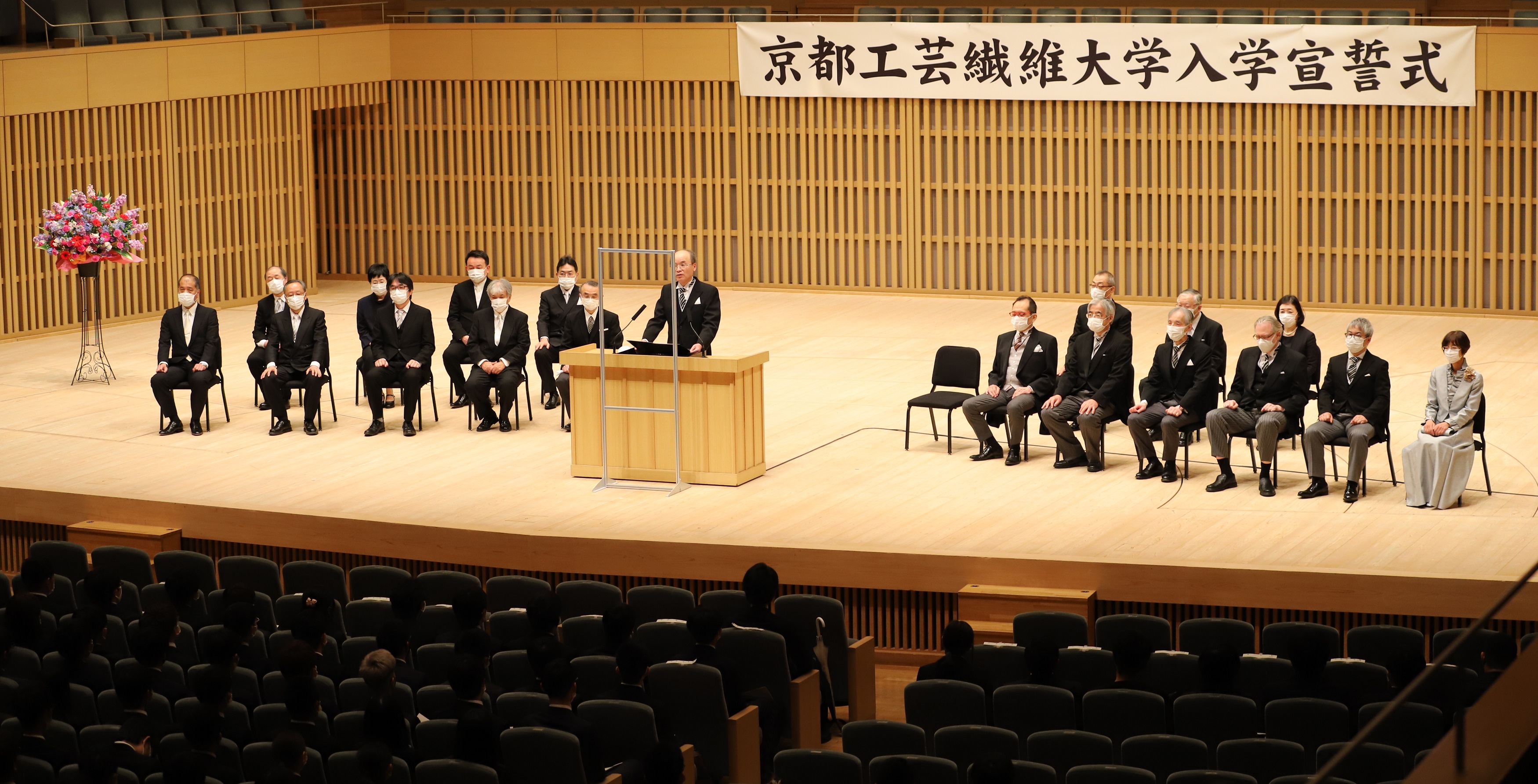 This April, we have enrolled 648 undergraduate students (including 59 transfer students), 506 master's course students, and 30 doctoral course students. You are enrolled in different majors, but you are all beginning your respective academic years at Kyoto Institute of Technology. At KIT we strongly believe that cross-disciplinary education and research is essential for the development of future engineering professionals, and we are incorporating it in many areas. I hope you will cherish these connections.
Our university has a history of over 70 years since it was established in 1949, and roughly 120 years since its predecessor schools, Kyoto College of Textile Fiber in 1899 and Kyoto College of Technology in 1902, were established.
Higher education in Japan is currently undergoing at least its third major transition. The first, was after the Meiji Restoration, when higher education was established as a national system. Kyoto College of Textile Fiber, one of the predecessor schools of our university, was founded at that time as a base of instruction for the sericulture industry in western Japan to ensure the stable production of raw silk, a major export product at that time, throughout Japan. In addition, the government of the time, keenly aware that Japan was lagging behind Europe and the United States, established public institutions of higher learning throughout the country. These included feeder institutions for the Imperial University known as the old high school system, teachers' colleges, and medical colleges. This was implemented to hasten modernization. Among these, industrial schools were considered the most important. The first was established in Tokyo, the second in Osaka, and the third, in Kyoto, was our predecessor institution. The Tokyo Higher Technical School became the current Tokyo Institute of Technology, the Osaka Higher Technical School became the School of Engineering at Osaka University, and the third, Kyoto College of Technology became Kyoto Institute of Technology. In 1902, there were two governmental universities, Tokyo Imperial University and Kyoto Imperial University. In 1902, there were two public universities, Tokyo Imperial University and Kyoto Imperial University. Our university was originally established as the 27th public high school and the 29th governmental institution of higher education.
The second transition was the establishment of the new national university system after the Second World War. With Japan's defeat, the country, was placed under the occupation of the Allied Forces, and educational reforms were carried out under the guidance of the Civil Information and Educational Section, known as CIE, within the GHQ (General Headquarters) of the Supreme Commander for the Allied Powers. The CIE requested Japan's Ministry of Education to establish a "one prefecture, one university" policy, preventing the concentration of universities in large cities and providing equal educational opportunities throughout the country. High schools and public universities were merged and this was achieved. Special permission was granted for Hokkaido, Tokyo, Aichi, Osaka, Kyoto, and Fukuoka to have more than one national university. In Kyoto, Kyoto University, Kyoto University of Arts and Sciences, what is now Kyoto University of Education, and the predecessor institution of KIT were established. By 1949, 69 national universities had opened their doors, and today there are 86. That the new national universities were of great help in post-war reconstruction, recovery, promotion of industry, and that they contributed to Japan's rapid economic growth, is clear. I believe that both the previous university and higher education transformations had a vision of a future Japan worth striving for.
Now, 20 years into the 21st century, Japan and the world are facing a range of life-influencing instabilities. The global spread of COVID-19 is one, but there are other serious issues without short-term solutions. These include trade friction and inequality. In Japan, we face a declining birthrate, aging population, low economic growth, a monocentric concentration in Tokyo and the economic decline of regional areas. I think you may all feel concern about the future. We urgently need to resolve these issues. I am certain you are all aware of Sustainable Development Goals. The world has yet to achieve effective or efficient solutions. Under the present circumstances, it is difficult to imagine the future and we are now faced with the question of the kind of human resources we should develop as a university, in order to meet these challenges. In other words, higher education in Japan is now in the process of its third transformation. Although this time it is not as clear-cut as the Meiji Restoration or the time after the defeat of Japan in World War II, the situation is extremely serious. A wide range of problems must be earnestly addressed.
To address the situation, in 2014, KIT set a goal of fostering highly specialized engineers, which we call "Tech Leaders." "Tech Leaders" are more than just technicians and engineers.
Engineering technology, which contributed to global modernization during the Industrial Revolution of the latter half of the 18th century, has developed with specializations and promoted economic growth, but it has also caused many difficult problems that must be solved in phases throughout the world. In order to make the best use of the progress of science and technology for the true happiness of mankind, our university has been providing education based on the conviction that engineering technicians in higher education must acquire and train in their own specialized fields, while at the same time, seeking to solve the problems of the day by consulting and collaborating with people in various fields from a broad perspective. I am convinced that we must solve the problems of today. This is the reason why our university is not called the "School of Engineering" but the "School of Science and Technology". We have a more human-oriented stance.
After being selected as one of the Top Global Universities by the Ministry of Education, Culture, Sports, Science and Technology (MEXT) in 2014, we set our sights on fostering not just engineers but highly specialized engineers who are qualified "Tech Leaders" as advocated by our university. These "Tech Leaders" are persons who, based on knowledge and skills in a specialized field, can take a leadership role in the global arena and successfully lead projects that address various social issues.
The competencies that Tech Leaders are required to possess, are known as "KIT Competencies." These are "Expertise," "Leadership Experience," "Second Language Fluency," and "Cultural Identity." In the educational programs of each program and major, relevant classes are arranged so that students can acquire these competencies. We expect undergraduates to graduate with tech leader competency after four years of self-discipline and autonomy. For those of you who are graduate students, I hope you will strive to become more advanced tech leaders.
Furthermore, starting this year, the university has decided to adopt another motto that expresses our core vision. It is called "KYOTO Thinking." Some of you may have already noticed it when it appeared in our 2021 New Year's greetings in the newspaper or on panels at Kyoto Station advertising our university.
As you are aware, Kyoto Institute of Technology is an international university of engineering located in Kyoto. It is important to note that it is located in Kyoto, a historical and cultural city known throughout the world. Kyoto has been the birthplace of the essence of Japanese culture, and at the same time, as a center of manufacturing, it has created and refined many "things".
The traditional craftsmanship known as "Takumi no Gijutsu" has not only been handed down to the next generation, but has also been further refined and gained credibility both in Japan and abroad through the constant creation of new techniques and innovative challenges. This has been done through our pride as a "Miyako" that always tries to create social innovation by thinking about how to enrich people's lives. This is the mission of Kyoto Institute of Technology, and we call it "KYOTO Thinking." It is about applying the power of Kyoto, a place that has nurtured this spirit of creative challenge, to engineering research and education.
In addition, we have adopted three key slogans that describe the principles of "KYOTO Thinking."
The first is "ART x SCIENCE." Art is a conceptual level higher than design. It flows from passion and dreams that move the heart. We aim to create new value by looking to scientific fantasy thinking for breakthrough ideas for innovation. In other words, we are exposing thinking that imagines things that are not currently possible, to precise analytical thinking.
The second is "LOCAL x GLOBAL," in other words, in addition to the way of thinking we are attributing to Kyoto, which goes hand in hand with its high quality manufacturing and culture of trust, we aim to create new value by addressing global issues and understanding internationally accepted values.
The third is "TRADITION x INNOVATION," which aims to create new value by combining a deep understanding of Kyoto's history and culture, a commitment to its trust-based value system, and its unrivaled craftsmanship.
The "by" or "multiplication" symbol used in these expressions also represents a "vector product," in other words, the creation of new spaces and fields with different qualities.
I am sure that all of you will be studying, researching, and working on projects at our university in Kyoto. We hope that you will remember "KYOTO Thinking" at various phases of your life, and use it to energize your thinking and actions.
 
We are looking forward to seeing your new strength in action and hope that you will tackle your studies and research with a renewed spirit. On the other hand, I believe that you will still be forced to lead a life with many restrictions due to COVID-19. I would like to ask you to remain calm, take your time, think and act with the awareness that you are a student of Kyoto Institute of Technology. Make the most of this time.
Let's work together, with faculty, staff, and the rest of the student body, to begin a new era and realize a prosperous society for all of humanity and our world.
Again, I would like to extend my sincere congratulations to all of you today.
April 5, 2021
Kiyotaka Morisako
President, Kyoto Institute of Technology