OPEN-TECH INNOVATION
~An Initiative for Global, Social and Regional Collaboration~
Three Areas of Enhancement
The first concrete step in order to train and create what we call "TECH LEADERs," i.e. highly sophisticated and specialized personnel, is to make the curriculum itself more attractive, through school-wide structural reforms. Constructing an educational system oriented to an international society and to providing learning opportunities that make use of Kyoto's cultural resources, further nurtures humanity.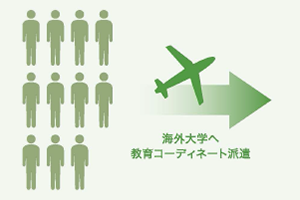 Producing more attractive human resources means transforming the university's organization into that of an international group. By sending and receiving faculty and staff members to and from overseas, an organization richer in internationality as well as the establishment of a global inter-university network progress will be achieved.
Making our campus more attractive involves creating facilities where not only Japanese and international students, but also our teaching staff, world leading researchers and regional companies can comfortably interact. This facilitates encounters with people from diverse views and backgrounds and contributes to the creation of novel ideas and broadened values.
Publications
KIT INTERNATIONAL JOURNAL(Annual Reports)
In order to improve the international competitiveness of higher education in Japan, the Ministry of Education, Culture, Sports, Science and Technology has been implementing a "Top Global University Project" to promote university globalization through university reform and collaboration with predominant overseas universities. The project supports institutions capable of world-class educational research and of carrying globalization forward by setting an excellent example for other universities.
Our university applied for "Global Traction Type (Type B)" project funding, and our concepts were adopted September 26, 2014.
After 10 years, at the completion of this project, we will have become a core institute of technology where leading researchers, business persons and engineers engaging in engineering research, industry and education in Japan and abroad congregate, innovate and form a globally networking ASIAN HUB. This is where sophisticated international engineers (TECH LEADERs), who demonstrate the kind of leadership which will contribute to the globalization of a worldwide and regional industrial infrastructure, are trained.
Our "Top Global University Project" is depicted here.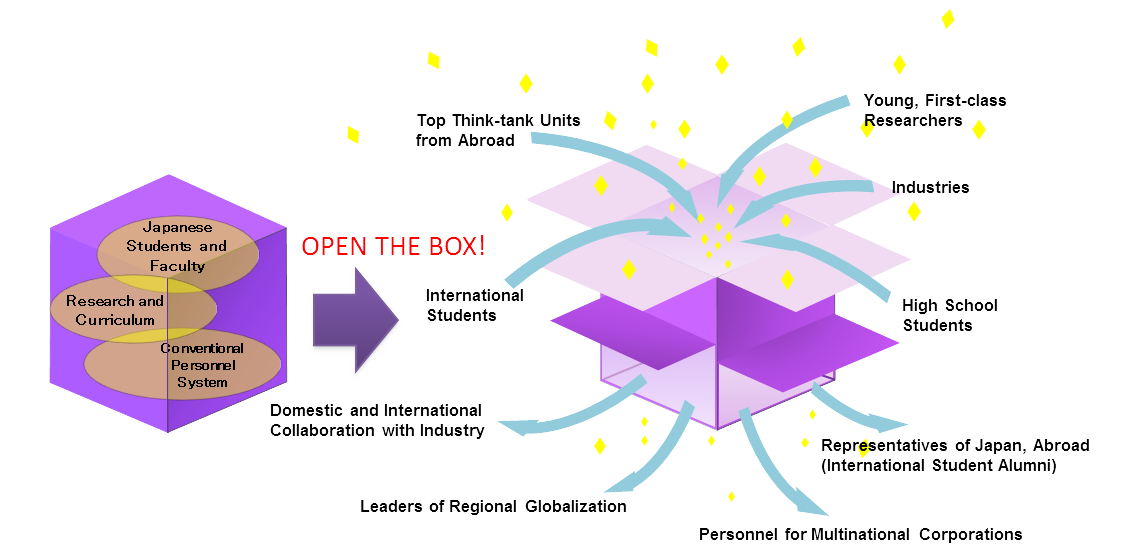 Our efforts during this project will enhance our current strengths: enhancing our curriculum, globally active human resources and networking presence as an ASIAN HUB.